Product
Instruction how to use set
ALCOHOL TEST
Set is used for disposable detection of alcohol in human exhaled air.
Instruction
Remove both plastic stoppers from the tube ALTIK.
Insert the tube ALTIK into the balloon and put on the mouthpiece from the other side.
Blow through the tube ALTIK for 20 – 40 seconds till the balloon gets full. The tube warms up by itself.
The test result evaluate within the range of 1 to 2 minutes after the balloon got full.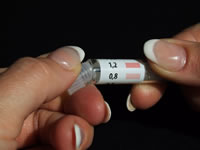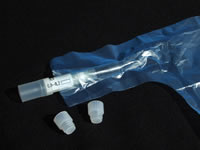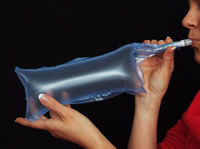 Evaluation:
Compare colour of the darkest particles of the filling to compare with etalon on the tube ALTIK.
Intensity of colour relates to the amount of alcohol contained in breath.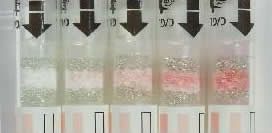 Warning:
Each tube can be used only once.
After using the mouth spray, cleaning the teeth, stay in the environment saturated with alcohol vapors, after smoking, ingestion of liqueur candies, chocolates and cakes, drinking of fruit juices and also after use of medications a preparations containing alcohols, it is necessary to wait 15 minutes before taking the test.
To achieve maximum measurement accuracy, recommended minimum temperature of the tube ALTIK before taking the test is + 10 °C .
Do not disassemble the tube . The crystalic filling can cause skin redness.
Keep away from children.
After being used, dispose the tube ALTIK into comunal waste.
Neither the manufacturer nor the distributor is responsibile for any damage caused by improper use, manipulation or failure to observe safety measures.
Storage:
Store in the original packaging, in a dry place, with temperatures up to 35°C, without sharp temperature variations.
The expiry date of ALTIK tubes is indicated on the packaging.
Disposable Alcoholtest , Single use Alcoholtester , Breathalyzer , Alcohol meter , Alcohol detection , Alcoblow , Breath analyzer , Ethylotest , Detection tube , Alcooltest